Time Travel in Stories... For Real!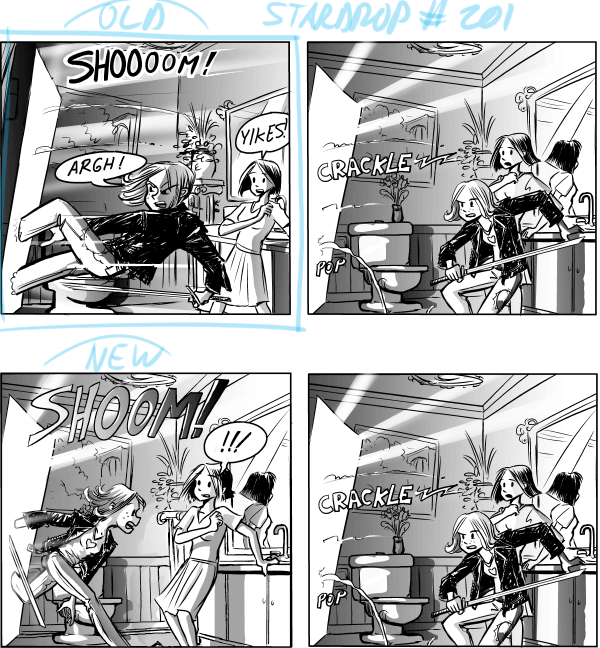 Thursday,
November 29, 2014
Fellow Sci-Fi indy cartoonist Carla Speed McNeil tells us, "Done is Beautiful!" and she's right, but even so... Every now and then, I'll comb through the on-line strips and make little changes here and there and not tell anybody about it. There's this constant pruning process going on in the background and I sometimes wonder if people ever catch me at it.
I briefly considered one time performing a SUPER COOL version of this exercise, where I'd have one of the characters go back in time and change something significant early in the story, -and then redraw/rewrite all the strips which came after to reflect that change. -And to completely delete the original versions of the strips and never mention it to anybody.
It would make the time line of the story a dynamic thing, and reader would actually have a visceral experience of a time-shift, having to trust their memories of events in order to preserve them. -A very "arty" project, and a bit annoying if you to really like the way the story went the first time around. (Like maybe Tom never got up the courage to ask Ashelle out on that first date way back in the beginning. How sad that would be!)
But not to worry; a time-travel edit like that will never happen. Partly because I like the story as it is, and partly because it would be insanely difficult to take the craft to that level!
But still.., what a cool idea, eh?
I'll just re-do the odd panel here and there as I have been thus far and aside from the times when I point it out like now, because I'm feeling chatty, nobody will ever know...
So I just re-did a panel which has been bugging me for ages; you can see the before/after in the linked image, (above). I've been revisiting Jenny's presence lately, bringing her into better focus, and I think this improves the flow and just looks more kinetic and funny for this strip.
So that's a peek at the endless process going on in the back of my mind at all times.
Cheers!