April 11th, 2013)
Hey, hey! The new Stardrop Book has arrived! (The overnight shipped box, anyway. The big shipment rolls into my driveway in a few days.)
They look GREAT! I'm blown away by the cover brightness and feel; The interiors are sharp as a knife, great reproduction quality. Good feel. Nice weight. No warping in the paper. Friesens Printing did an outstanding job on their very first comic book project. I hope they're proud of the result, because I sure am! (There are so many things which can go wrong on a print job, and my heart is always in my throat when these things arrive. I let out a huge sigh of relief as I inspected the book!)
My life over the next couple of weeks is all going to be about order fulfillment. There are a lot of sketches and signatures to draw, packages to assemble and label, and treks to the post office to be made.
But right now, I've got to get ready to head out to the New Booker School to take another comic book to press! (Well, small press. I was helping the kids there make their own comic book, and it's crunch time for them as well.) So much to do in these wonderful Spring days!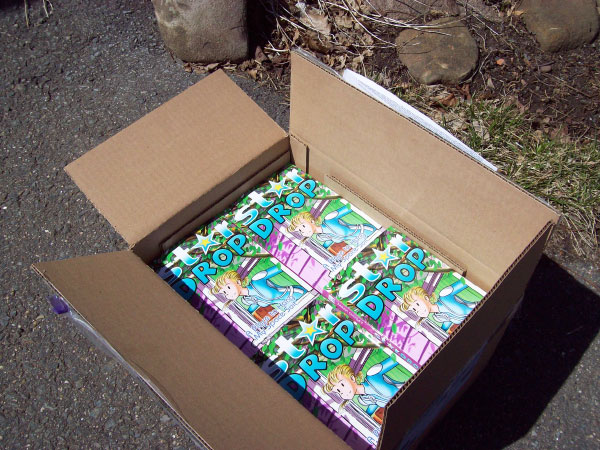 Opened to the Nova Scotian clear skies for the first time! Like a box of treasure. Ain't they pretty?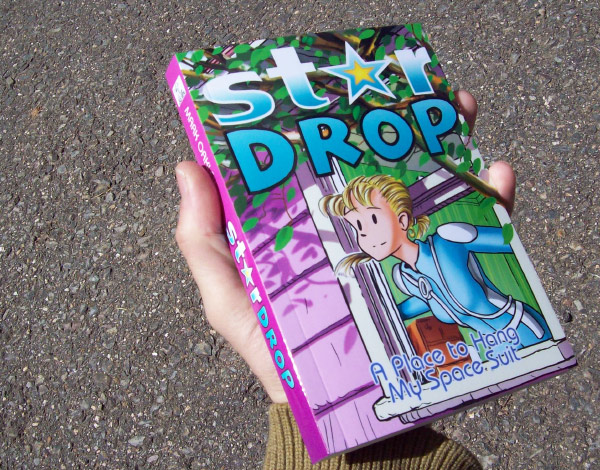 Feels good in the hand! I like the dimensions of these digest-sized graphic novels.

A nice, thick read! Good comics for your money.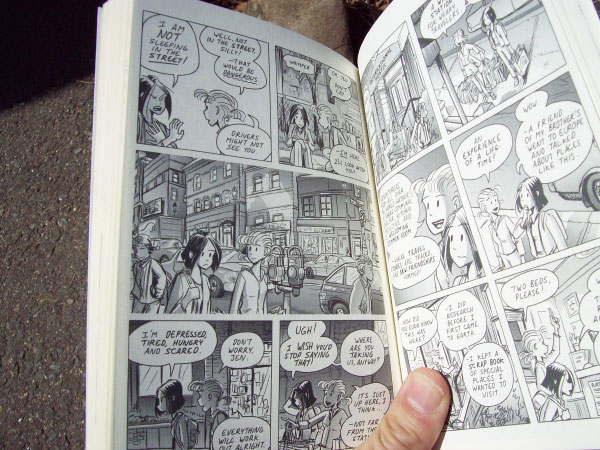 Excellent reproduction; blacks are black, lines are sharp. . . I'm always super-worried until I squint at the reproduction quality; there are a lot of things which can go wrong, (many of which are only visible to the trained eye, but still. . .) These turned out perfectly! What a relief!
Also, these panels are double the size and more than twice the sharpness as they appear in their original incarnation in the Grapevine. It's good to at long last see them as they were intended.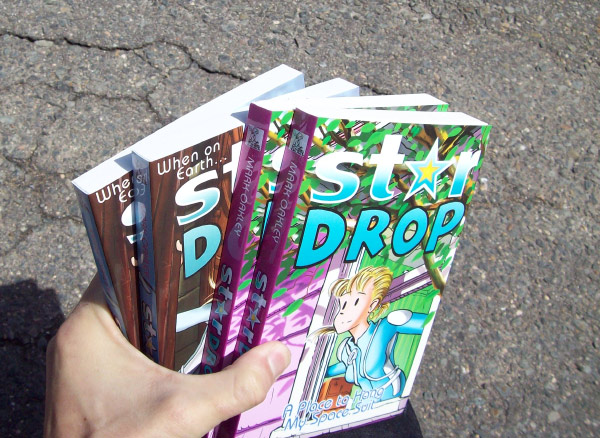 The second volume, having come from a completely different printing company is surprisingly close in quality and dimensions to the first. Good! They'll fit nicely together on a bookshelf.
Though, the second is a touch thicker, and the cover a touch brighter, and I thought the first was next to perfect. Friesens Printing basically just blew me away. They've got a repeat customer in me, no question!
Cheers to you all, and thank-you to everybody who helped bring Stardrop "A Place to Hang My Spacesuit" into the world!
After the Big Shipment arrives, I'll be making this book generally available in a variety of sales venues. Stay tuned!
-Mark